NG4 PSA Navidrive 3D - Wip Com 3D Maps West Europe 2018-1 unofficial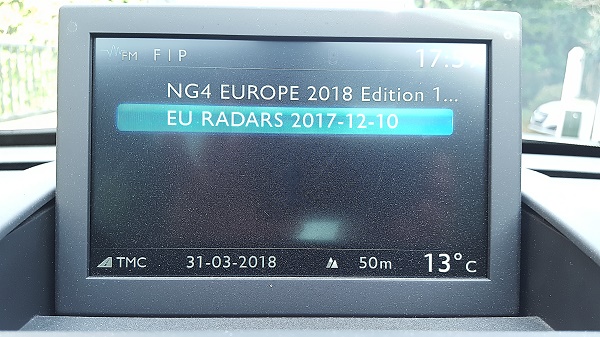 MAPS UNOFFICIAL
coverage
Western Europe:
Full coverage :
Andorra, Belgium, Czech Republic, Denmark, Finland, France, Germany, Greece, Gibraltar, Great Britain, Ireland, Italy, Liechtenstein, Luxembourg, Monaco, Netherlands, Norway, Austria, Poland, Portugal, San Marino, Slovakia, Slovenia, Spain, Sweden, Switzerland, Hungary and Vatican City.
Main road only:
Albania, Belarus, Bosnia and Herzegovina, Bulgaria, Estonia, Latvia, Lithuania, Macedonia, Moldova, Montenegro, Romania, Russia, Serbia, Turkey and Ukraine.
Database from BMW 2018
Modified to work with NG4 PSA Navidrive 3D - Wip Com 3D
Does NOT include 3D representations of buildings
Tested and working:
car 3008 H4

Preparing the USB key or SD card -16 Go mini
Choose a USB stick (faster than SD)
- Requires an SD card or USB stick format in FAT 32.
- Coping the folder "pkgdb" and the 2 files "config.nfm"
+ "PSA_ECE_Q4_2015_15.0.0_DVD1.md5" in the root of the SD card.
- Choose a USB stick (faster than SD)
Update procedure
- IMPORTANT The NG4 firmware must be in N42c version.
- To avoid putting the car to sleep: remove the SIM card, deactivate the Bluetooth etc.
- Start the engine and let it run, 50-60 minutes
wait for the end of the update to stop the engine.
- Then follow the instructions that you will be requested by the NG4.
- Possible to drive during the update, never stop the engine until it is finished.
- Put the USB key or SD card in the space reserved in your vehicle
(for the USB key under the central armrest and for the SD card in front of the NG4).
- The NG4 screen offers an update -> Validate.
- The update starts ... wait ...
- At the end of the update, the system asks to remove the USB key or the SD,
validate with OK and the NG4 restarts.
- You are in 2018-1 version.
- Check by pressing and holding the Setup key.
- Error code 0x26E, remove the USB key or SD.
- STOP, restart the engine and reinsert the USB or SD key.
Peugeot car compatible with NG4
click here
Citroën car compatible with NG4
click here
Download NG4 2018-1 on " yggtorrent " registration is free.

Download firmware N42c
I hope you like it.
Speak french Google translate
BIG THANKS to

Rojoax


NOTE of
Nemylus
Change the system language to English, return to navigation,
select your country and put the system back into your language.
Remarks by
mytheuzen

- TMC is not working.
- ETA (estimed time of arrival) is buggy on start, very pessimistic.
- Research of POI or places names with accented characters doesn't work.
- 3D works but is not updated, but it's not important.
- POI are the old PSA 2016-2 version.
*******************
Spain, does not work !!
France, Netherlands, Austria OK
(to fill in)
Tags: 3d, austria, car, czech, europe, germany, gps, gpsu, link, links, map, maps, navigation, Here,
navigator, navteq, new maps, norway, poland, problem, republic, street, system, t, ukraine, update