This is a tutorial on how to load IGO8.3 on an LG-LN730. LN735, LN740, and LN790. Basically any LG GPS running Windows CE. Depending on which model GPS you have, you will be required to totally remove the LG software from your unit and replace it with the IGO8.3 Navigation software. I am not responsible if you mess up your GPS. This is something that you do at your own risk. I can tell you that it's very hard to mess up. I had completely removed the LG software and rebooted my GPS and Windows CE still has the connection screen appear. My next attempt will be to load IGO8.3 from an SD Memory card and keep the LG software on the ResidentFlash drive. I'll explain how to accomplish this at the end if you want to try it yourself.
Although this post provides you with a copy of iGO8, it's only for educational purposes. Companies invest large amounts of time and money developing software. If you can afford it, then purchase a copy of IGO8 from here
http://www.navngo.com/pages/global/e...butor_webshops
IGO8.3 with Canada Maps only.
http://www.megaupload.com/?d=2XTMCCVC
Password: lggps 498.7 Mb direct download
North America Content
http://www.megaupload.com/?d=CEKL030B
Password: lggps 1.2Gb (Torrent) Extract and overwrite all the files in the content folder located in iGO8 on ResidentFlash or SDMMC
1. Download and install Windows Mobile Device Center from Microsoft Windows Vista and Windows 7
http://www.microsoft.com/windowsmobi...-download.mspx
or
Windows XP users download ActiveSync
http://www.microsoft.com/windowsmobi...-download.mspx
2. Download and install CERegEditor
http://www.ceregeditor.mdsoft.pl/fil...up_0.0.5.2.exe
3. Connect LG GPS to your PC via USB cable, once connected the GPS unit should connect to PC and display User Authenticated by the Windows CE connection manager. See image below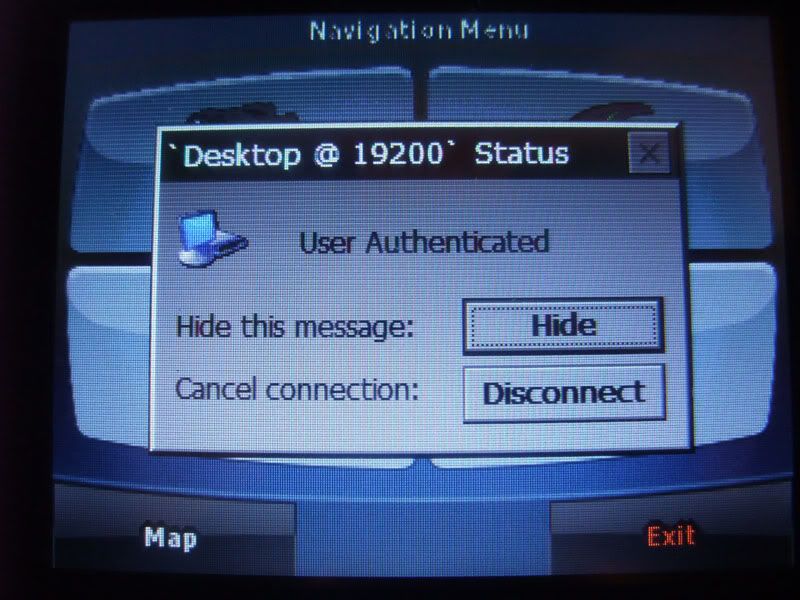 4. Open Windows Mobile Device Center or ActiveSync (Windows XP) see below the next image. and it should display similar to the image below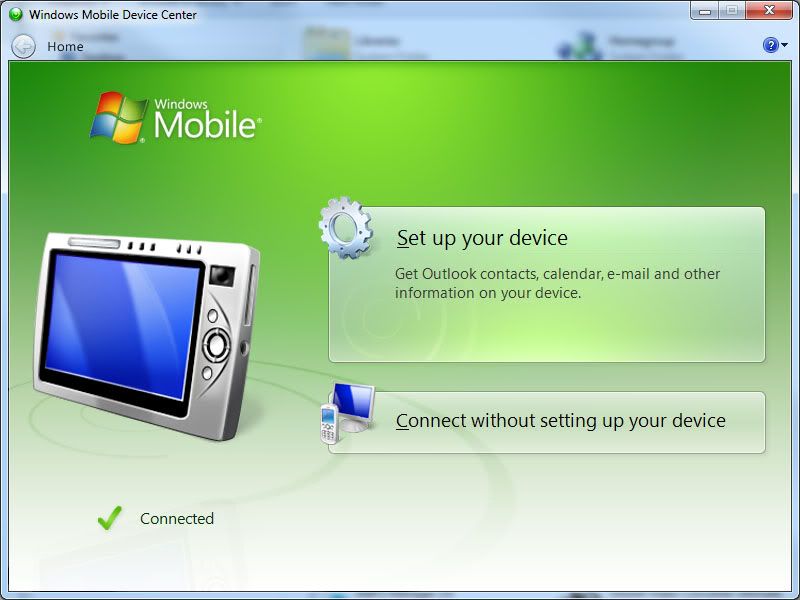 Windows Vista/7 Mobile Device Center
Windows XP ActiveSync
If it does not display like above, then check your GPS to make sure it displays the Windows CE connection screen. Try unplugging and re-plugging a couple of times. If not then reboot your GPS, and if still nothing, reboot your PC.
Once you have a successful connection, click the Connect Without setting up your device link. Then click the File Management > Browse the contents of your device link as shown below.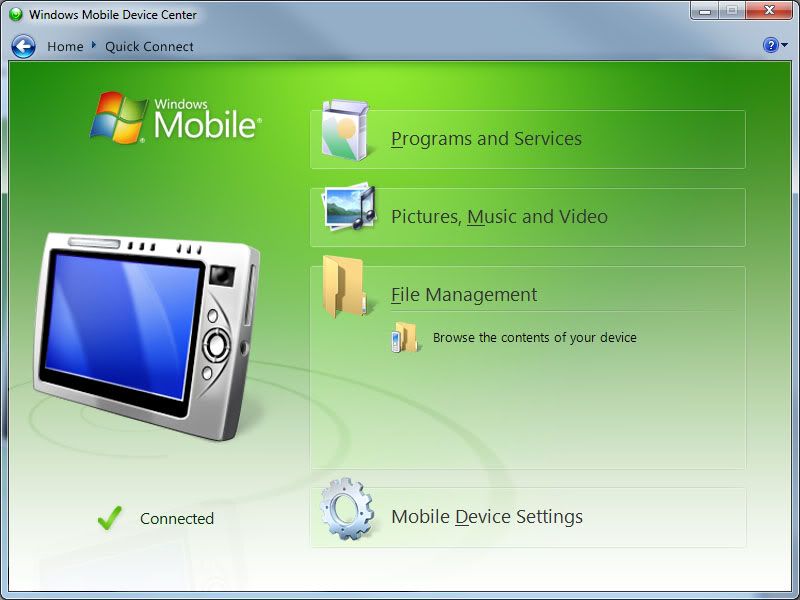 ActiveSync users click explore
This will open up a windows explorer screen with 3 drives displayed. See below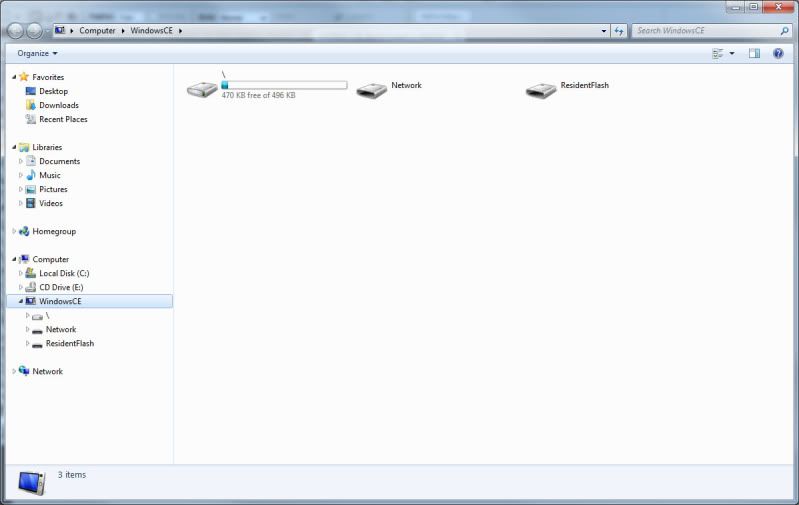 Open ResidentFlash drive and copy the entire contents of this drive as a backup to your PC. Warning, this is a very very slow process, this may take several hours.
5. Open CERegedit and press F1 or Connection > Connect at the top right. Expand HKEY_LOCAL_MACHINE\Init as displayed below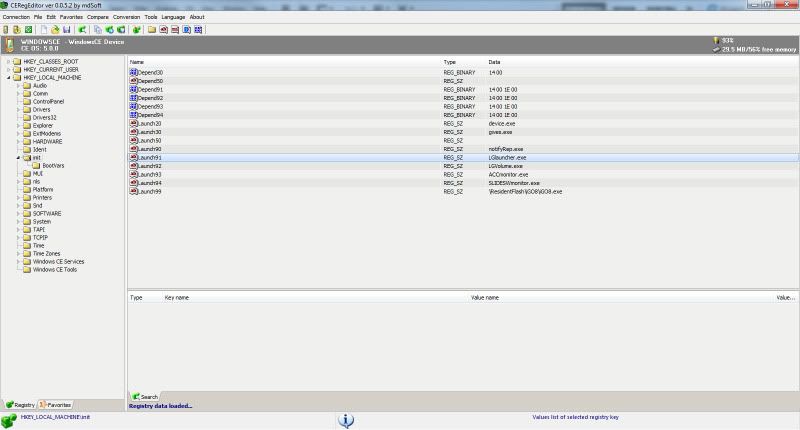 You will notice in mine I already have a Launch99, you will not have this. This is what I added to get IGO8 to launch.
- Double click Launch91 and rename LGLauncher.exe to LGLauncher.back and click the OK button. (Your's may not be Launch91, just look for LGLauncher.exe and whatever Launch string it is using and edit that)
- Right click anywhere under the last LaunchXX and click New > String Value
- Value Name: Launch99
- Value data: \ResidentFlash\iGO8\IGO8.exe and click OK
Now you should have a Launch99 in the list like mine and Launch91 should now have a value of LGLauncher.back
In CERegEditor click File and Save to make sure it writes to your CE device.
You can close CERegEditor now.
6. Reboot your GPS
(This part may be optional depending on your device and space that you have on ResidentFlash)
.
My LN730, does not have enough space on ResidentFlash to hold the LG GPS software and the IGO8.3 software. I therefore had to delete the contents of ResidentFlash to make enough room for IGO8.3
If your device has enough space, you can skip this step and proceed to step 8
.
I wasn't quite sure how this would turn out as the system has no software to run, but Windows CE is the first thing to boot up on your GPS. The GPS should connect to your PC.
The reason for doing this is so that we can delete the LG GPS software from the device. If we didn't stop the LGLauncher.exe from running, there would be files still in use on our device.
7. Delete the LGENavi folder and the SlidePlayer folder. Depending on the GPS, these folder names may be different. Just do a search on ResidentFlash for any files with *.exe
8. Create a Folder called iGO8 and extract from the links above and copy the contents of the zip file into the iGO8 folder. iGO8.exe like pictured below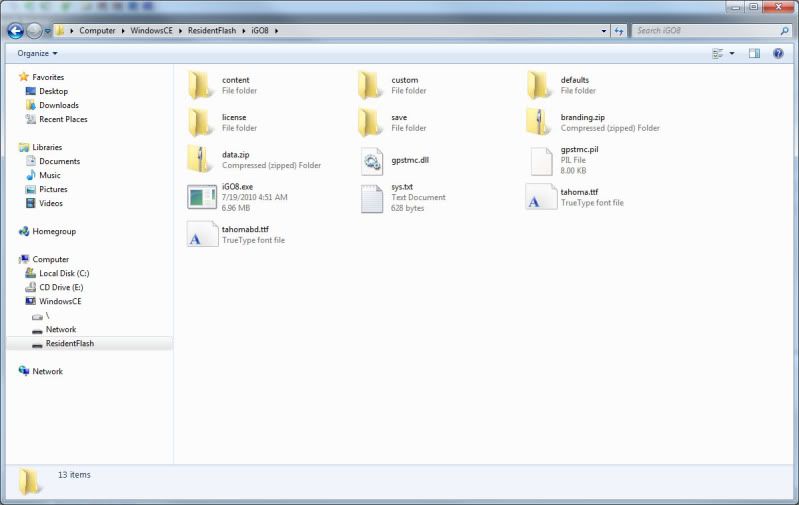 Note* In the iGO8 folder is a filename called sys.txt this file is where you customize settings for IGO with your device
[device]
type="LG LN730"
sdcard_dsk_num=7
[folders]
app="\ResidentFlash\iGO8
9. Disconnect the GPS from the USB cable and reboot your GPS, you will still see the LG GPS Nav screen (pictured below)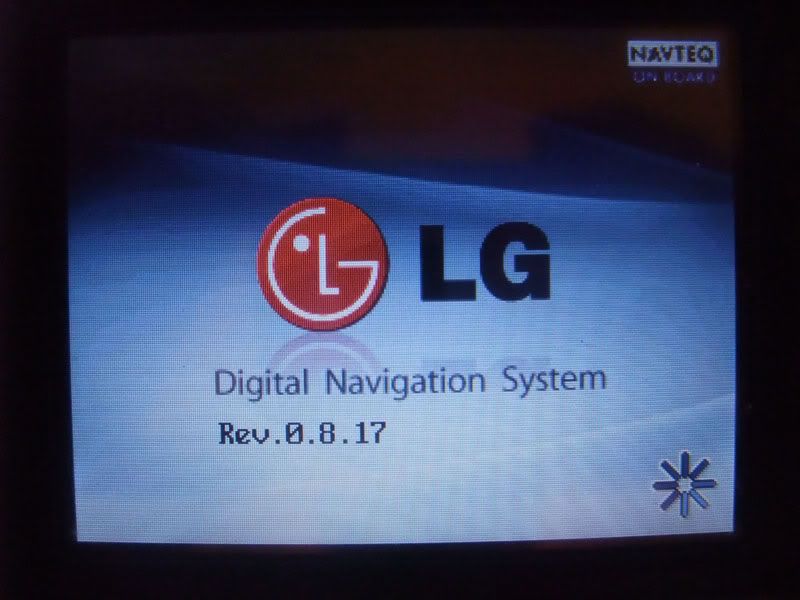 If everything worked the way it was supposed to, IGO8.3 should start to initialize (See image below).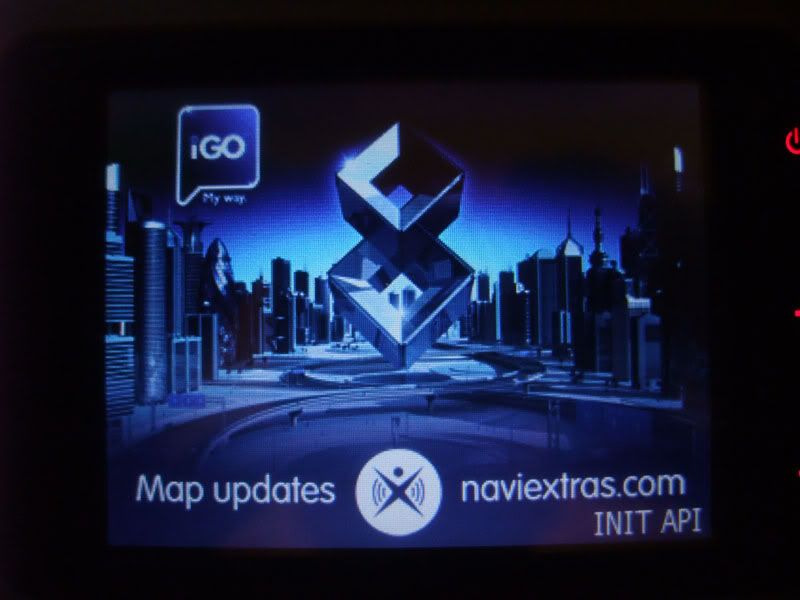 The first time you boot up your LG with the IGO8.3 software, it will take 10-15 minutes to Initialize. This is normal, just walk away and let it do it's thing. When it's done it will start the setup and you can customize your settings.
Just to show that an LG GPS can run IGO8.3 here is a camera pic of it running.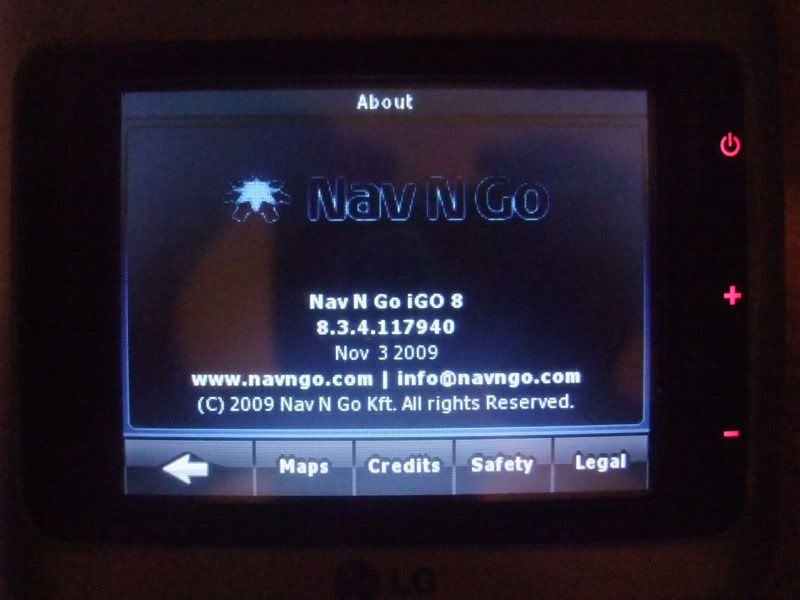 [SD MEMORY CARD]
To get IGO8 running off of an SD Memory card, instead of editing HKEY_LOCAL_MACHINE > init > Launch99 with \ResidentFlash\iGO8\iGO8.exe To find out what to replace ResidentFlash with, put the SD Memory Card into your GPS and in either Windows Explorer or Windows Mobile Device center, you will see it pop up as a drive. Mine came up as SDMMC.
Once you know this, you can create an iGO8 folder on the root of your SD Mem card and copy all the files into the iGO8 folder, then modify the Launch99 to look like the one below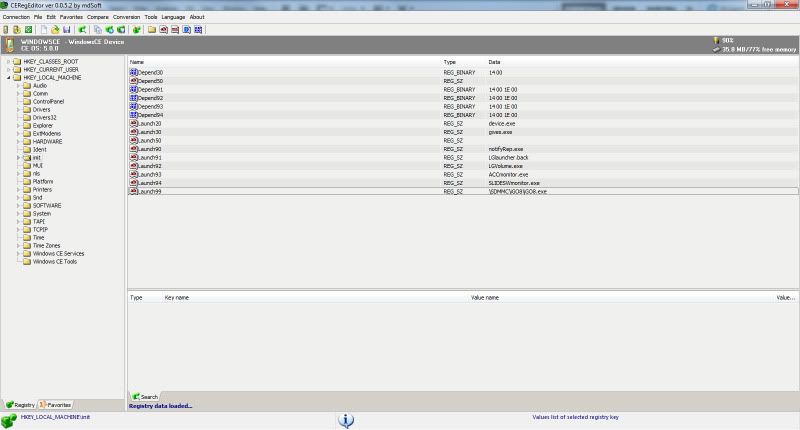 You also have to modify the sys.txt located in the iGO8 folder on your SD card.
[device]
type="LG LN730"
sdcard_dsk_num=7
[folders]
app="%SDCARD%/iGO8"
I attempted this with a 4GB HC SD card and my GPS would not recognize it. I tried a 256MB SD Card and it recognized it. I am under the impression that my GPS does not support HC (High Capacity) SD Mem card. If I can find a 3GB or lower card, I will attempt again. If anyone has any success with the SD Mem card, please let me know.